Festive Lunches and Christmas Parties in Canterbury 2017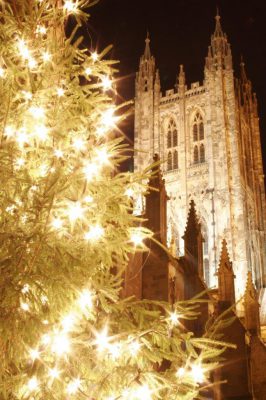 Looking for an exceptional Christmas Lunch or Christmas Party Night in Canterbury? Then look no further. Within the inspirational grounds of Canterbury Cathedral, the Cathedral Lodge offers superb first class banqueting facilities and is in the ideal location to celebrate Christmas. From only £23.95 per person, our great value Christmas lunches and Christmas party nights in Canterbury are perfect for large or small groups and a great way to celebrate with your family, friends or colleagues.

For shared party nights, the Auditorium Foyer Bar opens for drinks from 6.30pm, with seating for dinner at 7.15 pm. Our resident DJ plays all your favourite hits through to carriages at 11.00pm *
Christmas Menu 2017
Starter
Spiced Carrot Soup with toasted Cumin Seeds (V)
Cranberry cured Pollock with pickled and purée Chestnuts and Watercress
Duck Terrine with Orange Gel, Brioche Crumb and Pomegranate Seeds
Goats Cheese Mousse with Olive Tapenade, pickled Grapes and Pine Nut Granola (V)
Main Course
Traditional Turkey with all the trimmings
Braised Ox Cheek with Fondant Potato, Blackcurrant and Rosemary Jus
Fillet of Hake with New Potatoes, Sauce Vierge and Pea Medley
Beetroot, Squash and Lentil Wellington (V)
All main courses are served with seasonal vegetables
Dessert
Christmas Pudding with Brandy Sauce (V)
White Chocolate Blondie with Raspberries (V)
Morello Cherry Delice (V)
followed by
Tea or coffee, with Mini Mince Pies
 Canterbury Cathedral Lodge 2017 Christmas Party brochure can be downloaded here.
Christmas Party Nights
£35.95 per person – Friday and Saturday nights
£29.95 per person – Monday to Thursday nights
£27.95 per person – Sunday nights
Dates still available for Christmas Party Joiner Night in the Clagett Auditorium
Thursday 7th December – 2 tables left
Saturday 23rd December – 2 tables left
We also have available: Sunday 3rd,Tuesday 5th or Sunday 17th December for a private party night or for a company with more than 50 people.
Dates still available to join a Christmas Dinner in our Restaurant, with the option to join the party night after dinner on selective dates *
Christmas Dinner in the Refectory Restaurant – £25.95 per person
Saturday 2nd December
Thursday 7th December *
Thursday 14th December *
Friday 15th December
Friday 22nd December *
*more weekday evenings are available – call for dates
Dates still available for Christmas Lunches in the Refectory Restaurant
Christmas Lunch £23.95 per person
Monday 4th December
Thursday 7th December
Wednesday 20th December
Thursday 21st December
Saturday 23rd December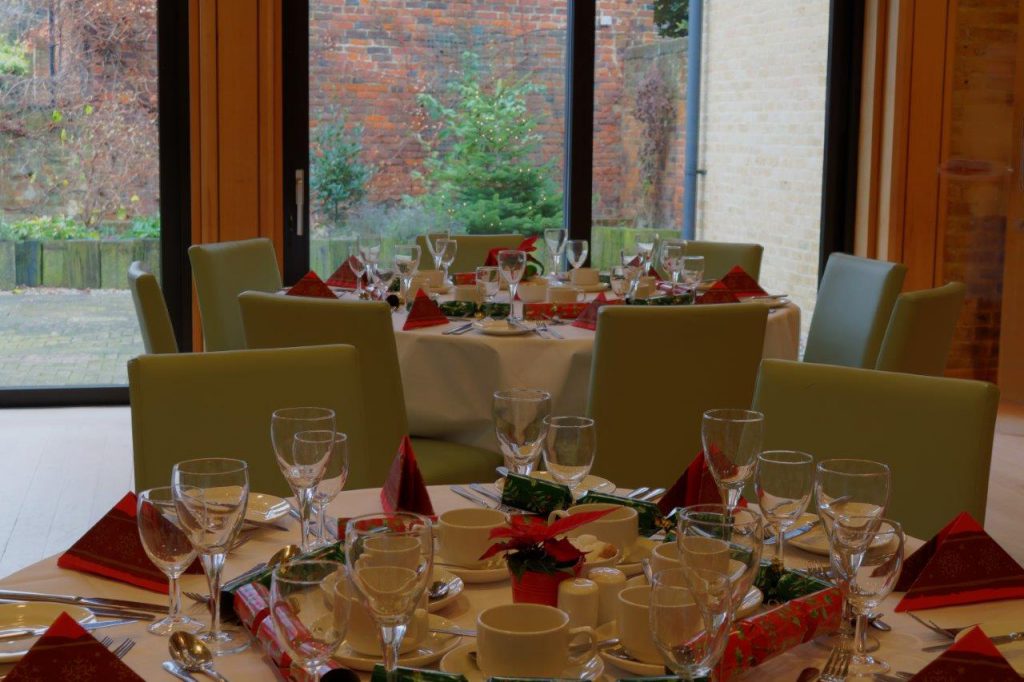 More Special Events